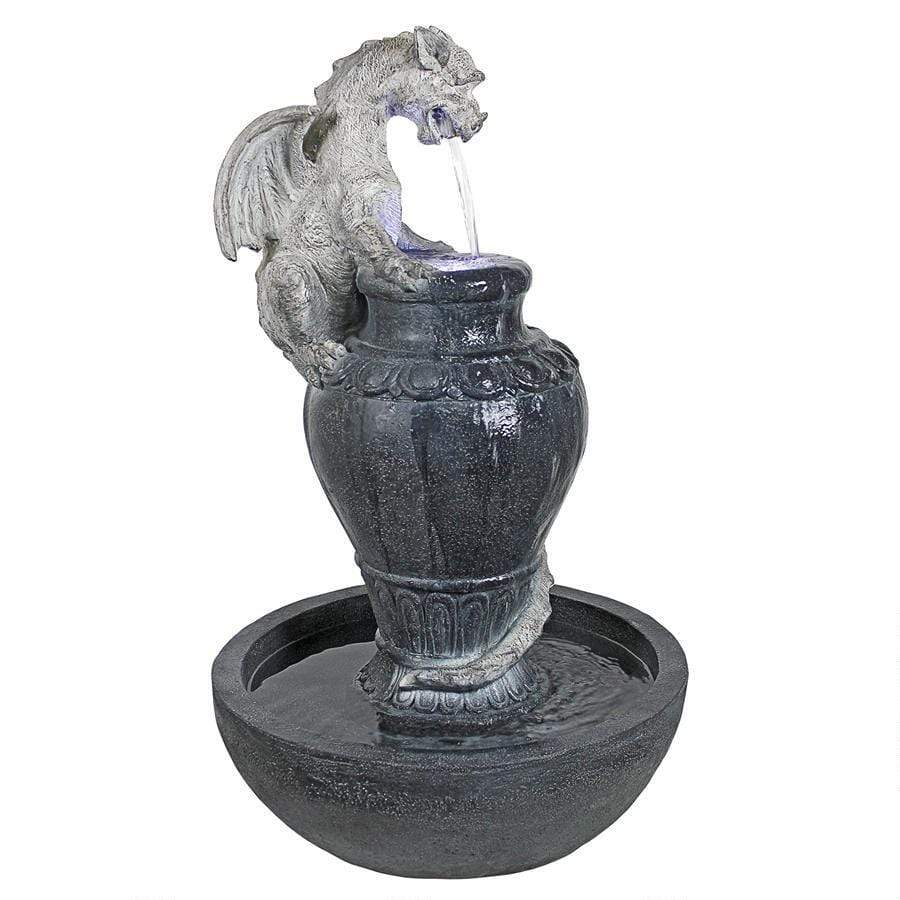 Design Toscano Viper Dragon Sculptural Animal Outdoor Fountain SH382629
---
EXPECTED BACK IN STOCK: DECEMBER 13
Design Toscano Viper Dragon Sculptural Animal Outdoor Fountain SH382629
Add a Gothic accent to your garden with this European gargoyle-inspired fountain!
Our steely-eyed Gothic Viper Dragon gazes into the legendary illuminated pools from his perch, this fabled winged serpent is said to foretell the future. This Design Toscano almost yard-tall dragon fountain is intricately sculpted from the beast's spiny wings to the artistically rendered, dark, and mysterious water urns that boast a pool of cascading water lit from below by the included LED light kit so you and your guests can commune well into the evenings! Cast in quality designer resin with an amazingly detailed, hand-painted finish, this Design Toscano exclusive sculpted fountain is an investment in functional garden art. UL-listed, indoor/outdoor pump. 
Simple assembly required.
Bring inside during freezing temperatures.
Product Details
19"Wx19" Dx30½"H. 20 lbs.
This fountain includes a 170 gallon per hour pump and features 1 LED light cluster with 4 white bulbs.
Pump includes 6-foot long cord.
Arrives in 2 pcs.
Winter Care of Design Toscano Fountains:

Many customers ask if our products stand up to long winters, extremely inclement weather, and freezing temperatures. The answer is yes, but only with proper care. While we expect the works of art we sell to be of the best quality, Mother Nature can be quite tough on these pieces. Extreme and rapid changes in temperature and humidity may affect your statues adversely. Resin and cast stone have an inherent tendency to expand and contract with climactic conditions. The ideal solution is to store your fountain away from direct exposure to the winter elements, for example, a basement, garage or gardener's shed would be perfect. The following recommendations are offered to help ensure that your purchases give you years of enjoyment:

Drain the bowl(s) or shell(s) thoroughly.
Remove the statue and pump, storing them inside if possible.
Fill the bowl(s) or shell(s) with an absorbent material such as towels, blankets, etc.
Cover the entire fountain with a fountain cover or heavy-duty plastic sheeting and secure tightly. Should condensation droplets form on the inside of the cover, the material will absorb them.
Small Fountain bowls may be inverted so that water will not pool inside.
Remove the drain plug if your fountain has one.
Do not use antifreeze in fountains.
Do not allow fountains to sit in freezing and thawing water.
We strongly suggest that all portable fountains be moved indoors in inclement weather and freezing temperatures.
Please remember, while resin and cast stone are strong and durable, nature can be stronger. A little maintenance and care will keep your investment beautiful for years to come.
View and Download
Product Video
---
---