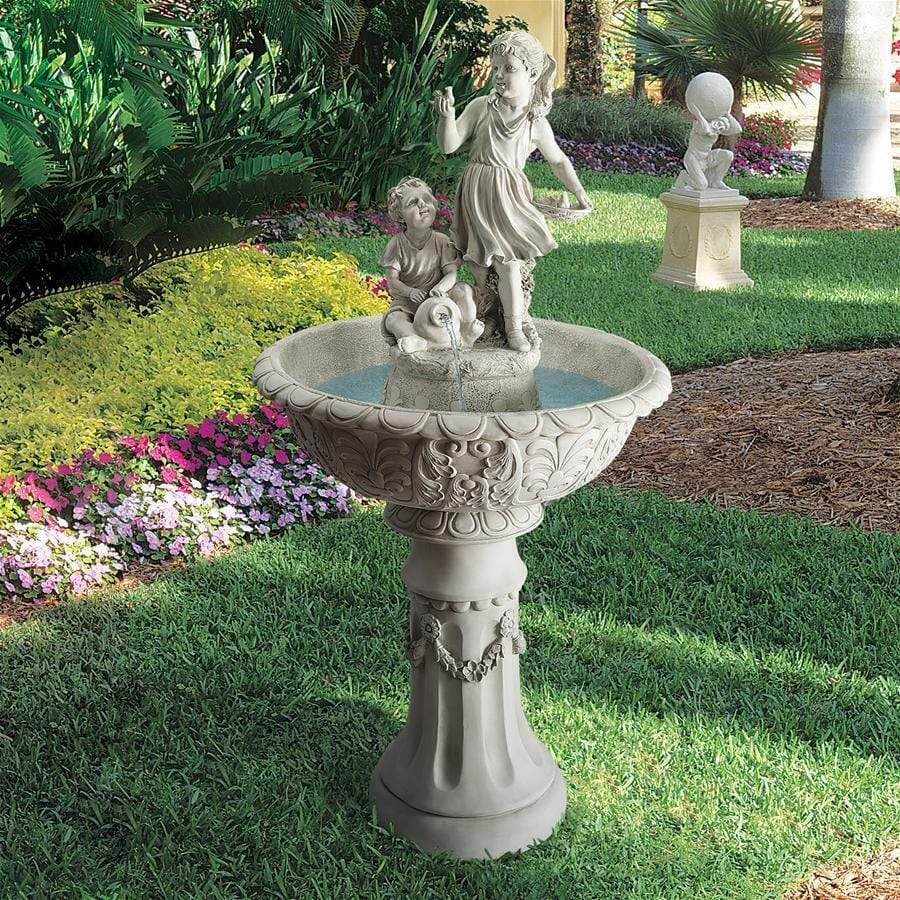 Design Toscano Nature's Children Sculptural Garden Outdoor Fountain KY4012
---
Design Toscano Nature's Children Sculptural Garden Outdoor Fountain KY4012
Create a unique garden focal point with this pedestal fountain featuring two playful little kids!
Baby birds and cherubic children celebrate nature as bright beads of sparkling water dance into a splendid acanthus leaf basin set atop a classic pedestal base. With its soothing aqueous melody, our sculptural fountain is cast in quality designer resin and hand-finished to replicate fine stonework. This investment in garden art creates an unparalleled focal point and features an integrated, UL-listed, indoor/outdoor pump.
Assembly required.
Product Specifications
27"dia.x52"H. 55 lbs.

This fountain includes a 90 gallon per hour pump. The distance from the water surface to the bowl edge should be around 1-1.5 cm. Pump includes 6 foot long cord.
Three sculptural pieces easily fit together: pedestal base, water basin with pump compartment and statue of children. Basin fits on top of pedestal and turns to lock in place.
Pump electrical cord exits at bottom back of pedestal; cord exit opening has attached spring to hold cord in place.
Product Care
Winter Care of Design Toscano Fountains:

Many customers ask if our products stand up to long winters, extremely inclement weather, and freezing temperatures. The answer is yes, but only with proper care. While we expect the works of art we sell to be of the best quality, Mother Nature can be quite tough on these pieces. Extreme and rapid changes in temperature and humidity may affect your statues adversely. Resin and cast stone have an inherent tendency to expand and contract with climactic conditions. The ideal solution is to store your fountain away from direct exposure to the winter elements, for example, a basement, garage or gardener's shed would be perfect. The following recommendations are offered to help ensure that your purchases give you years of enjoyment:

Drain the bowl(s) or shell(s) thoroughly.
Remove the statue and pump, storing them inside if possible.
Fill the bowl(s) or shell(s) with an absorbent material such as towels, blankets, etc.
Cover the entire fountain with a fountain cover or heavy-duty plastic sheeting and secure tightly. Should condensation droplets form on the inside of the cover, the material will absorb them.
Small Fountain bowls may be inverted so that water will not pool inside.
Remove the drain plug if your fountain has one.
Do not use antifreeze in fountains.
Do not allow fountains to sit in freezing and thawing water.
We strongly suggest that all portable fountains be moved indoors in inclement weather and freezing temperatures.
Please remember, while resin and cast stone are strong and durable, nature can be stronger. A little maintenance and care will keep your investment beautiful for years to come.
Downloads

Order a Design Toscano Nature's Children Sculptural Garden Outdoor Fountain KY4012 today from FountainsUSA.com. Free shipping + free gifts on all of our Outdoor Fountains. Buy today and get a discount, free shipping, and a free gift!
---
---